2023 - There are two chances to see trumpeter Rex Richardson this week with two very different all-star groups. Wednesday night he is fronting the free Dominion Jazz Café gig at the Virginia Museum of Fine Arts with Hard Bop Emporium. Friday, he returns to Brun in the Fan (203 N. Lombardy) with the quartet that provided one of the best nights of music last year... Continue Reading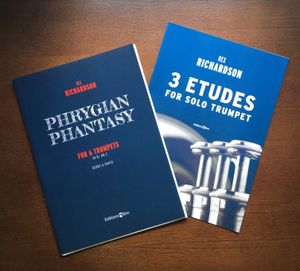 Sheet music "Three Etudes for Solo Trumpet" and
"Phrygian Phantasy for 6 Trumpets" 
now available at Editions Bim!